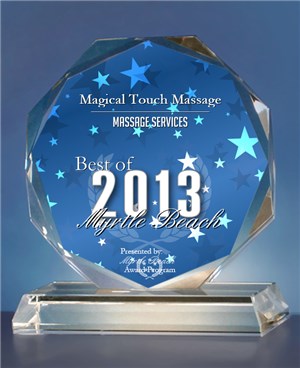 A Humble Thanks
Magical Touch Massage is the proud recepient of one of the Myrtle Beach's Best of Small Businesses Awards. More specifically, this award distinguishes Magical Touch Massage as the Best Massage Therapist in Myrtle Beach. I am both excited and humbled for this recognition. It is my goal to provide the best service possible and I will continue to strive to do so. Thank you to all who made this award possible.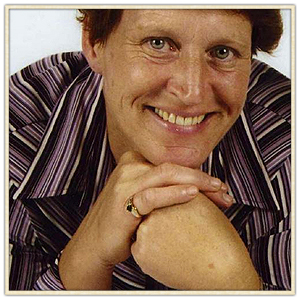 Welcome
My name is Jennifer Mayfield and I want to welcome you to the website. I am the owner/operator of Magical Touch Massage in Myrtle beach, SC. I specialize in Pain Management and Medical Massage Therapy; have been a licensed Massage Therapist since 2003 and a certified Medical Massage Therapist since 2006. I am also certified in Neuromuscular Therapy, MRT Therapy, Deep Tissue Massage, Acupressure Massage, Trigger Point Therapy, Reflexology, Pregnancy and Infant Massage,Sports Massage, Swedish Massage and Hot Stone Massage and Massage Cupping.
Magical Touch Massage in Myrtle beach, SC has been voted the Best of the Grand Strand and the clientele includes individuals from all over the world. Many specifically plan their vacations with treatment sessions in mind and often schedule their trips around appointment availabilities.
Medical massage therapy can be a viable alternative treatment for many ailments. If you have a medical condition such as sciatica, carpal tunnel syndrome, neck or shoulder problems, back problems, etc.; a determination of the projected success of massage treatments can be attained. While it is rarely the case, if it is determined that you may not benefit from massage treatment, our referral service can put you in contact with someone who may assist you further.
So whether you're in need of relief from pain, preparing muscles for your next sporting event or golf outing, or you are just looking for a nice relaxing massage to relive all the stress and tension of everyday life, Magical Touch Massage is here to tend to your specific needs.
I encourage you to take your time and visit the various areas of the website. There is an abundance of information provided for your convenience. Should you need further assistance, please contact me by phone or email. Thank you for your interest.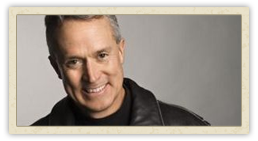 "Next morning after playing Golf, my Hip and Leg were hurting so bad I couldn't Walk. After your massage, I got off your table and walked away with No Pain. I really couldn't believe it. Thank You, Thank You."
more